MY ABSOLUTE FAVORITE WAYS TO USE YOGA PROPS
During the COVID pandemic, most of you have missed getting your favorite hands-on yoga adjustments. You know what I'm talking about – class has started, you're all warmed up, and as you plant your hands on your mat and lift your hips into Downward-Facing Dog, the instructor walks by and you silently say to yourself "please, please, give ME the adjustment."
Well, I am happy to tell you there are ways to get those delicious pose enhancements without anyone else nearby! You can use your at-home props to get that extra length and space you crave when you used to get adjustments from your instructors pre-COVID. For me, DIY wall ropes is one of the best ways to recreate getting your favorite adjustments.
Click here to be taken to my online yoga classes where you'll find one called "How To Make Your Own Set of Wall Ropes at Home."
Here's a sample of what you'll be able to do with your at-home wall ropes: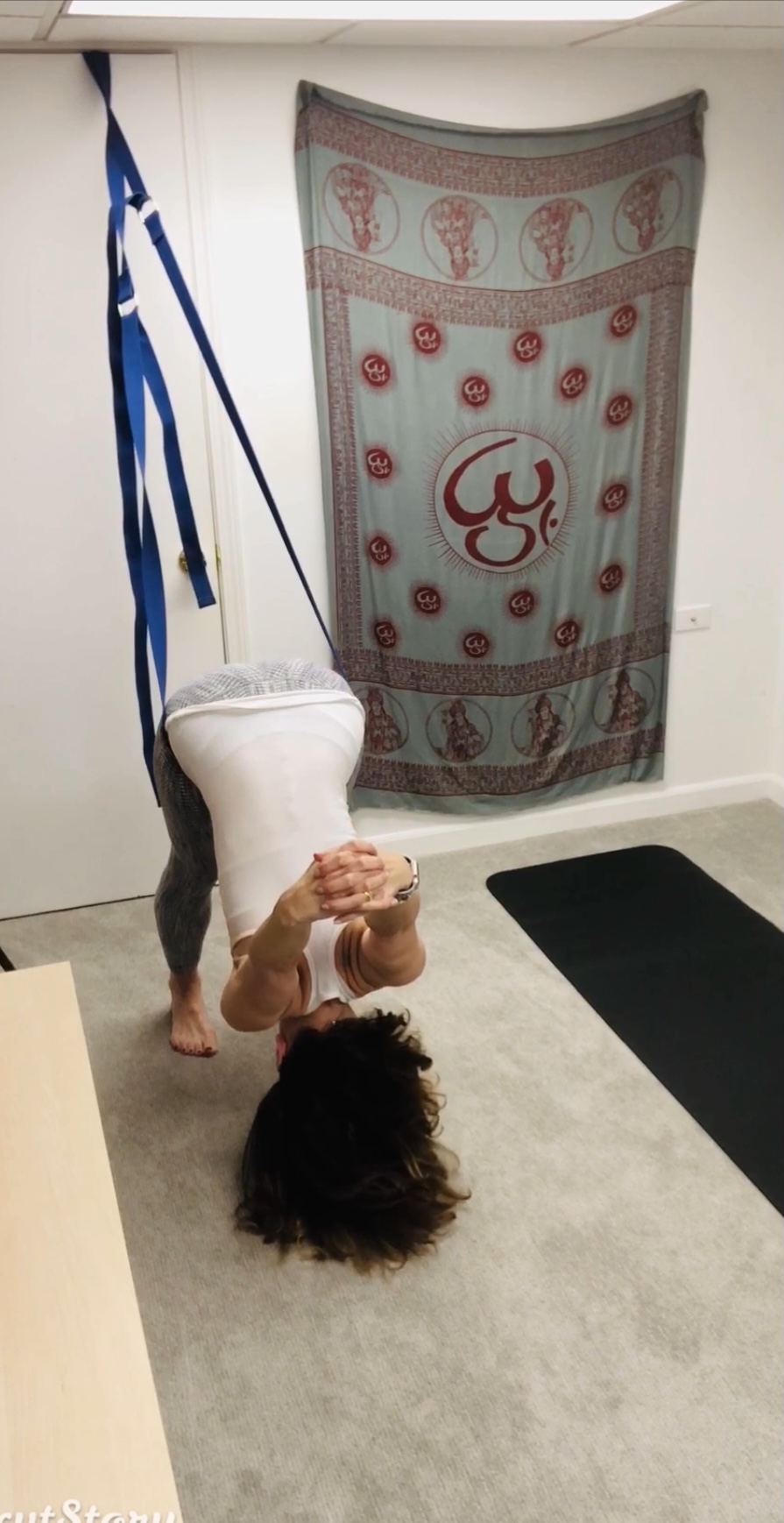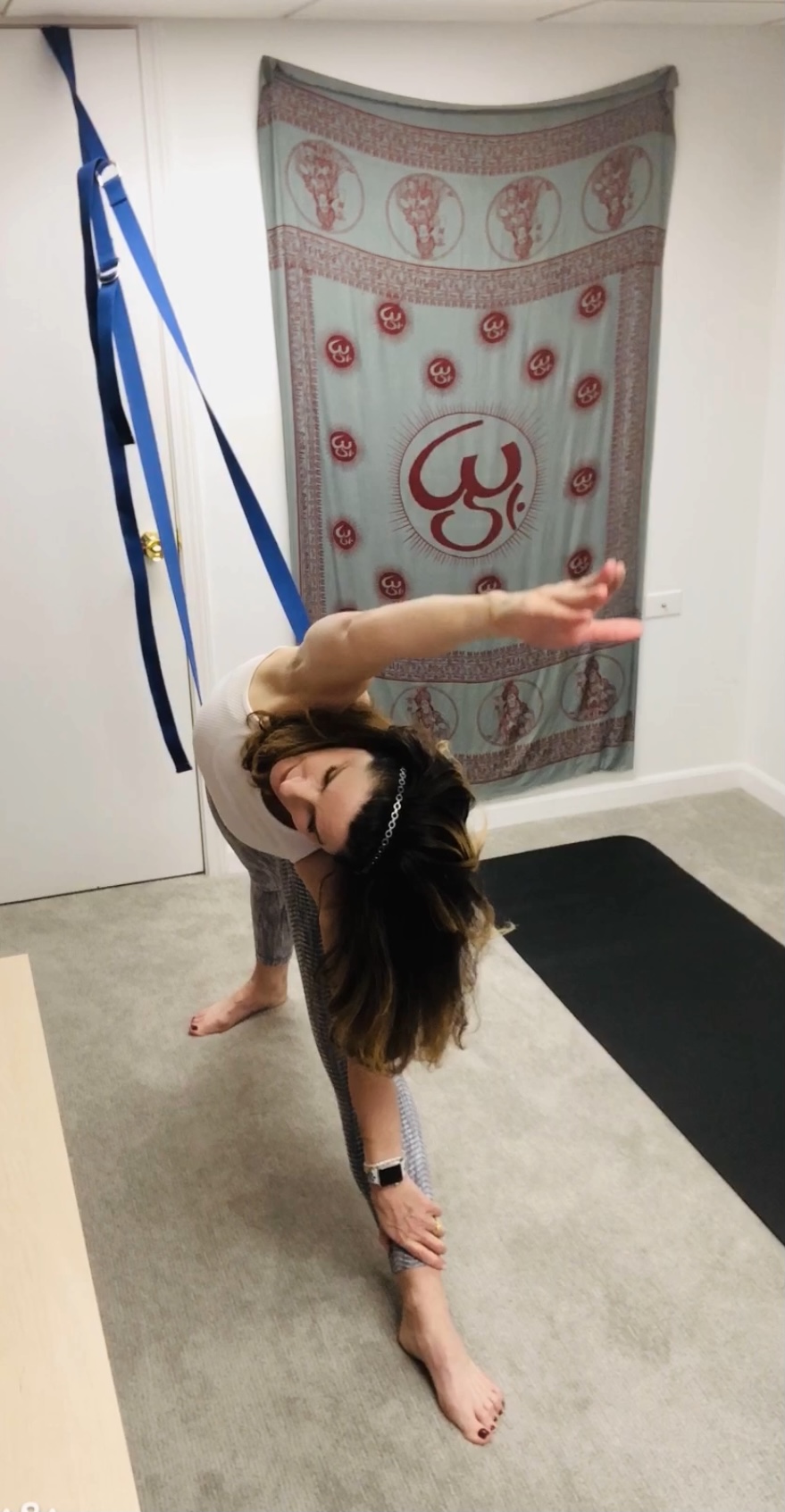 One of the reasons yoga adjustments feel so good is that they create more length in your spine which, in turn, supports higher-quality breathing. This month, my weekly newsletters will share the many ways you can use props in your yoga practice, including some unique variations of your favorite poses that I bet you haven't seen before.
If you're new to my newsletter or website, I share tips, cues, and my favorite finds all month long that revolve around my theme of the month. This month, it's all about cool ways to use yoga props. Click here to sign up to receive my newsletters.
I know some students feel that the use of props is a way to make poses easier – in my view, this is not necessarily true. Realistically, props are a fabulous way to find more length, space, and breath in many of your favorite yoga poses. Props can also help create more stability and even assist with muscle engagement. For example, using a block for core work can make it more challenging.
Check out this 28-minute core-focused practice I recently recorded doing just this! 
Another one of my favorite props is the wall. I absolutely love using the wall to open my hamstrings and find more stability in a multitude of poses. The prep work that can be done at a wall makes getting into other poses (or deeper variations of poses) much easier. Some of my favorite classes involve using the wall to practice and hold poses you otherwise wouldn't be able to do safely, or at all, without the support of the wall.
Here are a few of my favorite ways to practice with the wall: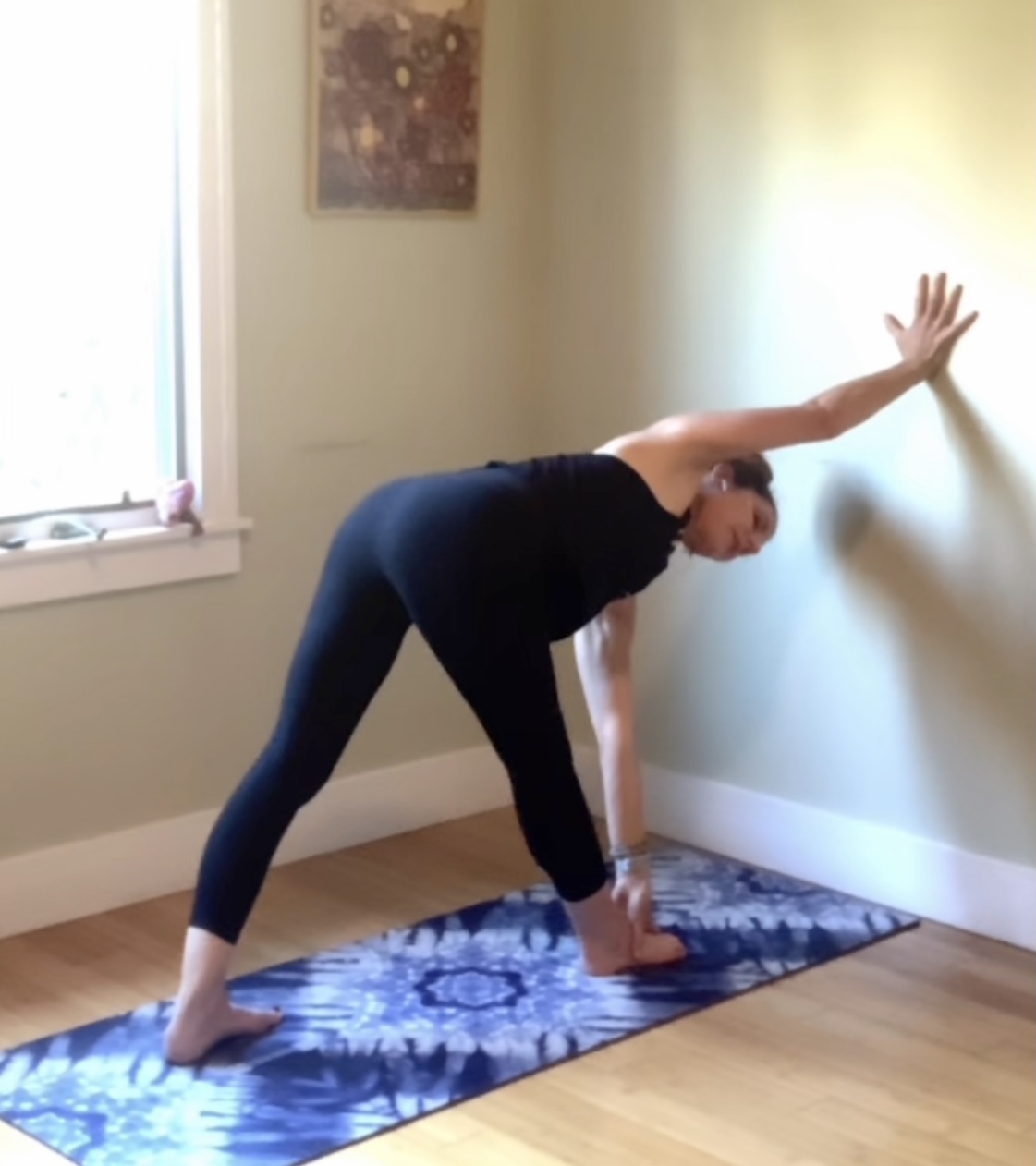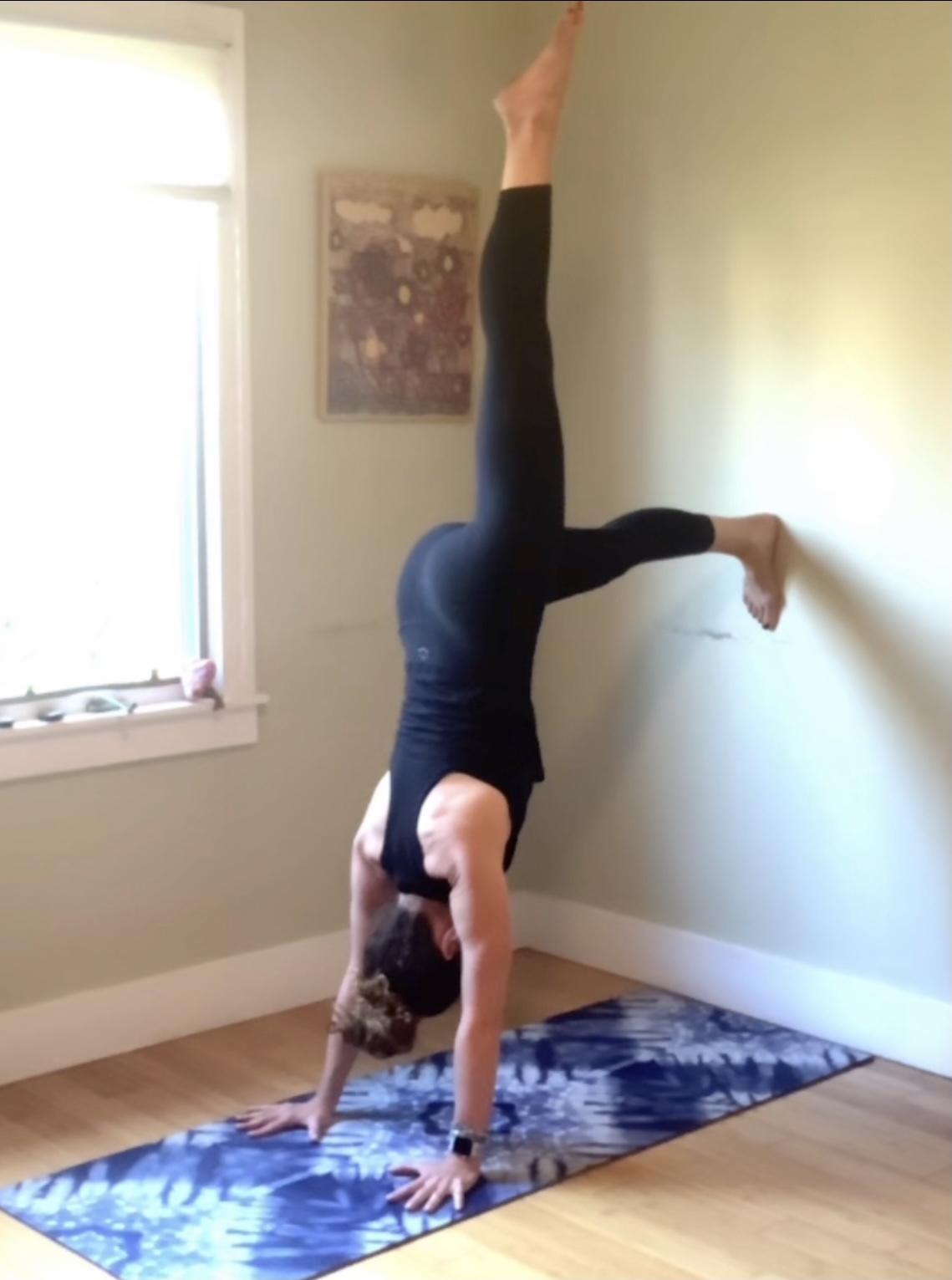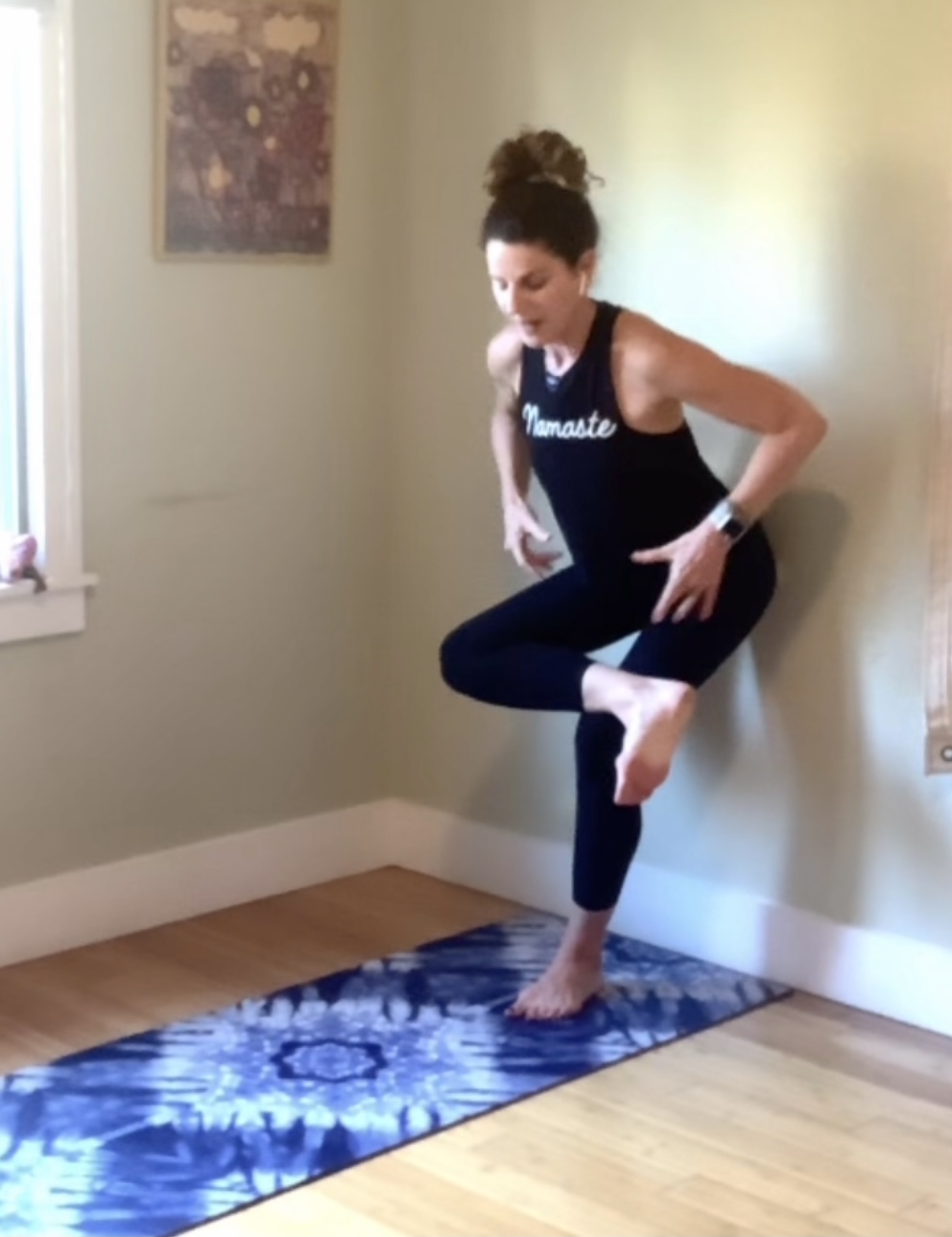 I also have a 45-minute yoga class on my website where the wall is our main prop as we flow through a strong standing practice.
---
Here's a peek at last week's newsletter where we use blocks to practice Wheel pose:
THIS MONTH'S THEME: MORE COOL WAYS TO USE PROPS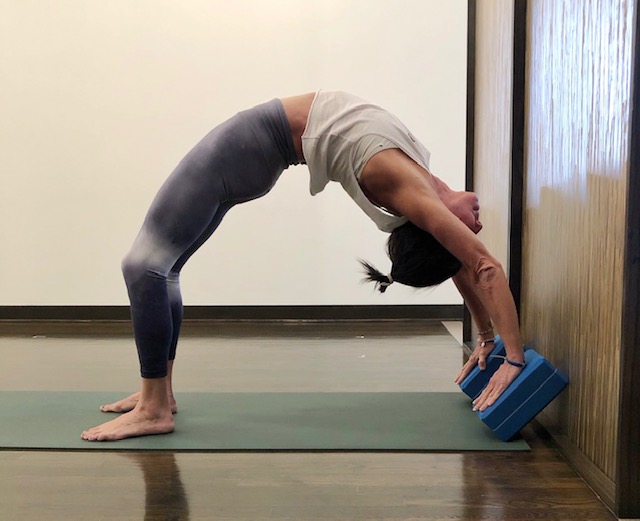 photo cred: Deb Muraff @muraff
It's PROP month – again! Because there are so many wonderful ways to use yoga props, I wasn't able to share everything I wanted to last month. So, I am going to continue the theme this month! Using props, especially the variations I'm sharing, is like having your favorite teacher right there with you, adjusting you. Make sure you watch this week's Favorite Find to see what I mean.
One inspiring cue:
Place two blocks at an angle against a wall as the picture above shows. As you take your arms overhead to come into full Wheel, allow your hands to find the blocks instead of the floor. Push your hands into the blocks and come up slowly to ensure the blocks are stable.
Why?
This is my absolute favorite way to practice full Wheel! When you use the blocks, there is less extension in your wrists and less flexion in your shoulders. Thus, it is perfect for those who feel strain in their wrists and/or shoulders in full Wheel. It is also easier on your back since the blocks create less extension in the spine as well. Give it a try!!
As I've already said many times, using props is such a great way to ENHANCE any pose. Check out this week's Favorite Find for cool ways to use a door and a strap to find more length and space in multiple poses, including Half Moon, Triangle, Warrior 2 and Pyramid. Click here to go to my website for this video.
One inspiring tip:
Try placing your feet on the blocks as shown in the picture below. Like the cue above, this variation will also take some of the extension out of your spine, making it feel more comfortable for those with any back issues.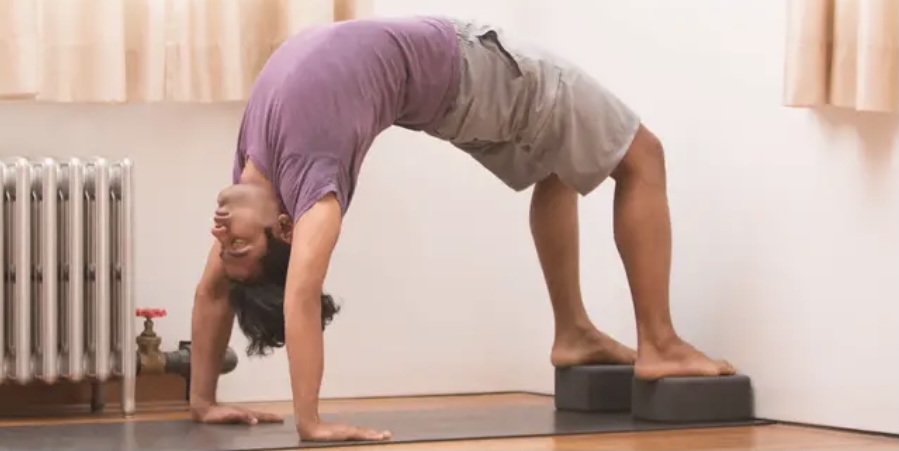 One inspiring song:
One inspiring quote:
"Thoughts are energy, and you can make your world or break your world by your thoughts."
– Susan Taylor
If you'd like to receive my favorite yoga cues (in addition to the anatomy behind the cue), a tip, a song, and a quote each week, you can sign up for my Weekly Inspirations.
---
Here's what a few students and instructors have to say about my weekly newsletter:
*I just wanted to reach out (again) and say hello from Philadelphia. I love your newsletters and I often use your inspiring music recs as well as inspiring tips with my students.
*I just moved to Scottsdale 2 weeks ago…but I wanted to tell you how much I love your tips/videos. And, I just did the 28-minute neck/shoulders video and it was awesome!!! Lots of tension with this move, especially during the pandemic! Love the part where you look down then up while in extended side angle…THANK YOU!!!!
*Thanks for caring and helping us maintain some normalcy. Over the years I have accumulated a great list of your quotes, songs, and special cues. You are a treasure…I'm so grateful for your calm voice, energy, and highly-curated style.
My goal in sharing my Weekly Inspirations and yoga classes is to have a small, positive impact on your life that makes it just a little bit better. Whether it be the quote, the yoga class, or a tip that worked for you to ease your breath, I am truly grateful to be able to share my own knowledge as well as everything I've learned from other experts in my 25+ years of teaching. I love being a part of the process that keeps us all growing as yoga students (curious yogis!) and teachers.
You can also always head over to my Instagram account, where I share my FF and other tips and cues (currently November and December 2020 monthly themes).