Neck & Shoulders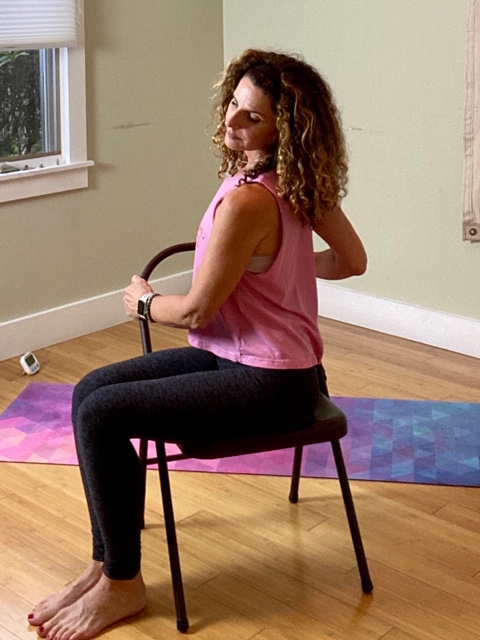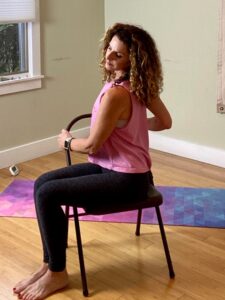 I will load each week's content below in the tabs. The most current week will show first in blue, but you'll be able to click the boxes in grey beside the blue tab to view previous content.
Today I have a strong 40-minute flow ready for you to practice. Use it on its own, or couple it with one of my 20-minute core classes! Click here to go to my website for this latest video.
At the end of 40-minute practice, I take you through two of the neck-releasing poses that I learned in Gary Kraftskow's online workshop. In case you missed this month's previous newsletters, Gary is a well-accomplished yoga therapist and the director and lead teacher of the American Viniyoga Institute. I will be using some of Gary's cues to help lengthen and release the tissues in your neck and shoulders. If you missed Week 1's Favorite Cue, click here to see a more detailed explanation of these neck/shoulder-releasing poses and a video that demonstrates the stretches.
If you didn't see it last week, you may want to check out my Week 3 Favorite Find – a video from physical therapist Dr. Jo with 10 great neck stretches for pain relief.
As we move through this time of transition, just a gentle reminder to breathe, soften, and go with the flow!
One inspiring cue:
Find a stable Bridge pose, then slowly lift your arms up and overhead. As you do this, imagine that your arms begin at your low ribs.
To see the cue in action in a series of Bridge pose variations, see below.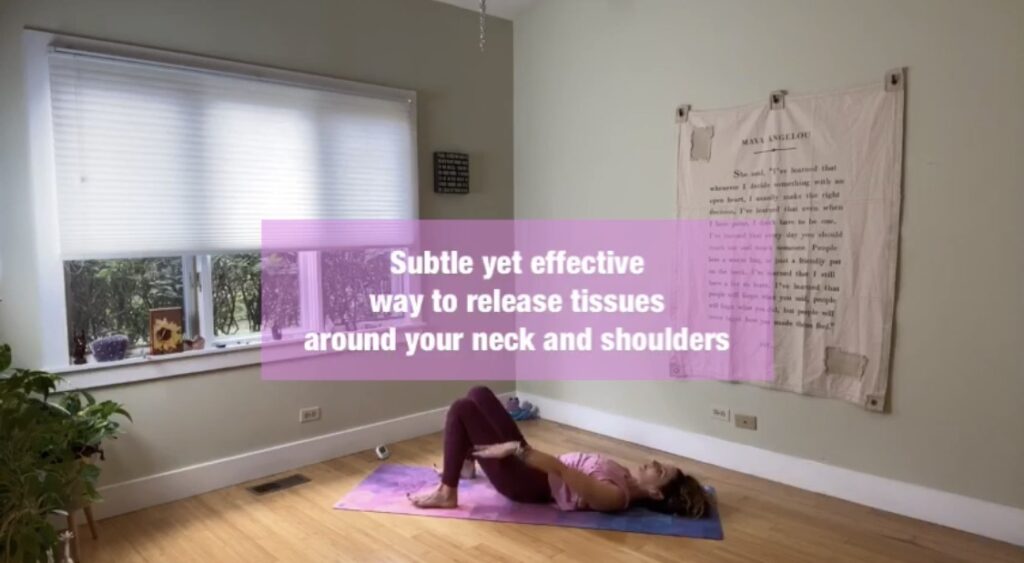 Why?
I've always loved this cue. In taking the workshop a few weeks ago with well-respected yoga therapist, Gary Kraftskow, he used it quite a bit in Bridge variations to help lengthen the lattisimus dorsi muscles (lats) and to release tissues around the shoulders. So why is this cue so effective? When you cue a pose (or practice a pose) using the origin and insertion of a muscle, the stretch and sensation is intensified. The lats originate at your low back and rib cage area and insert on your humerus/upper arm bone. Thus, when you lift your arms overhead with a focus on the point of origin (ribs), you get more out of it.
You can also give this cue a try as you reach your arms up overhead in High Lunge and/or Warrior One. Feel more stretch in the lats and release around the shoulders??
Make sure to watch the video above that demonstrates exactly how to release the tissues around your neck and shoulders using Bridge pose variations. I love it!
One inspiring tip:
When lifting and lowering in and out of Bridge pose, come up and down one vertebrae at a time. It helps to mobilize and "unstick" the tissues in your back.
Also, if you are looking for ways to release more tension in your neck, check out this week's Favorite Find! Click here for a video by physical therapist, Dr. Jo. She'll show you 10 great neck stretches for pain relief. Enjoy!
One inspiring song:
"Like a Dream" by Francis and the Lights
One inspiring quote:
"As I take care of my energy, my energy takes care of me." – Spiritual Creative
Good morning!
As time goes on and we are still hunkered down for work in our homes, unable to return to our regular routines, and metabolizing what is going on in our world, you will find that releasing through your neck and shoulders will offer some relief!
I have a NEW 28-minute flow for you to do just that!! This is the perfect class to add on to one of your other workouts or use on its own when you don't have a lot of time.
You'll move through 24 minutes of standing postures (with a focus on stabilizing your shoulders and releasing in and around your neck), followed by 4 minutes of targeted stretches for your neck. So roll out your mat and listen to instrumental music from DJ Taz (already in the video) as I guide you through this 28-minute flow. Click here to be taken to my website for the class. Enjoy!
If you missed last week's email, I shared a series of neck stretches you can easily do at your desk or seated on the floor. Click here to revisit the week 1 cue and a video demonstrating these stretches.
Why am I a little more cautious when it comes to poses that involve pressure around the neck? Think Headstand and Shoulderstand. You most likely understand why if you watched the Favorite Find video from last week. If you missed it and you're curious about the anatomy of the neck and its important structures, click here to be taken to my website for this brush-up on the cervical spine.
Remember…take these days one moment and one breath at a time.
One inspiring cue:
While sitting in Sukasana, on a chair, or in your car, draw the front of your throat towards the back of your throat and lift the back of your ears up and away from your shoulders.
To see the cue in action in a series of neck stretches, watch the video below: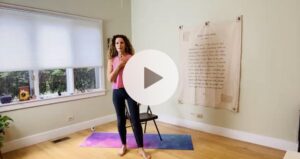 Why?
The 7 cervical vertebrae in your neck are smaller than the rest of the vertebrae in your spine. This means that the discs between them are also smaller. Most of us tend to let the head drop forward or jut our chin out, which can cause compression. When you draw the front of the throat towards the back of the throat, you will feel your head being pulled back slightly and into better alignment. When you lift the back of the ears away from your shoulders, you help create more space in the cervical spine. In simplistic terms, because there are so many important structures in the neck, the more space we can create between the discs, the more space there is for these structures.
For an anatomy brush up on the cervical spine, click here. You will see both an article and video…feel free to read it all, but the video has everything you need!
One inspiring tip:
Take the bottom of your hand under your chin and align your hand so it is parallel to the ground. Use the cue from above to draw the front of the throat back and lift the back of the ears up. You will feel slight pressure against your hand when you do this. I find this gentle feedback to be a helpful guide as the ears lift up and more space becomes noticeable in the neck.
One inspiring song:
"Wow" – Instrumental by Post Malone
One inspiring quote:
"Don't count the days, make the days count."
– Muhammad Ali