SUN SALUTATIONS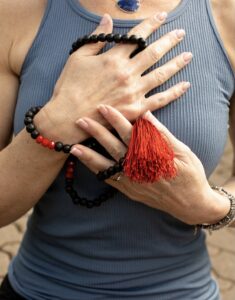 I will load each week's content below in the tabs. The most current week will show first in blue, but you'll be able to click the boxes in grey beside the blue tab to view previous content.
 Happy June!  
Since the sun is finally shining (most days), I thought this would be the perfect time to explore SUN SALUTATIONS.
Your newsletter will look a little different than usual in that I won't have a specific cue with the anatomy behind the cue. Instead, I'll be sharing different articles and blogs about the Sun Salutations so you have an opportunity to dive a little deeper into this part of your practice. I'll be releasing two new classes this month, both of which will revolve around variations of Sun Salutations. Do you know all the variations? There's Sun A, Sun B, Sun C, and the Moon Salutation (this last one isn't officially a Sun Salutation, but I'll include it in our practice this month).
Have you ever asked yourself why you practice Sun Salutations at the beginning of every class? I think most of us know they are used to warm the body and move the spine into flexion and extension, but there is a deeper meaning that may help you elevate the mental part of your practice.
Personally, I love Sun Salutations because it offers me an opportunity to get in a groove and move with my breath. But every now and then, I remind myself of the deeper meaning, and use it as a focal point at the beginning of class when I want to add more depth to my yoga practice.
"Surya" means sun and "Namaskar" means to bow to. In other words, we are bowing to the sun and all it represents – light, energy, and life!
The meaning behind Sun Salutations can depend on who you talk to, how they were trained, and in which tradition they accumulated their yoga knowledge. Some say it's thousands of years old and was used as a ritual for morning prayer. It's commonly taught to practice Sun Salutations facing east as the sun rises to help absorb the powerful energy of the sun. Others believe the Sun Salutations came about in the early 1900's, strictly as a form of exercise. I'll be sharing articles that provide some perspective.
In terms of pace for moving through Sun Salutations, that's up to you. I like the pace to link up with a medium to full length breath. I know I'm not supposed to say this, but I hate when an instructor goes too fast and I can't link breath to movement. On the other hand, there are people (and instructors) who love to move at a fast pace and use Sun Salutations solely to get the heart rate up. Again, you get to decide what feels best for you!
Click here to go to the Weekly Inspirations page of my website to check out two articles on Sun Salutations I think you will enjoy. Here is an overview of what each article explains:
Article One (byrdie.com)
– a basic history of Sun Salutations
– why some people choose to practice 108 Sun Salutations
– when to practice
– what a Moon Salutation is
Article Two (yogajournal.com)
– a brief history of the Sun Salutations
– why we join our hands in prayer pose at the beginning and end of each salutation
– how your own "inner sun" can add another dimension to your movements
Sometimes all it takes for me to elevate my practice is to use the Sun Salutations as a reminder of my gratitude for the light, energy, and warmth the sun provides. Occasionally, I'll add a short mantra like "thank you", "love" or "peace"…anything I'm feeling in the moment or want more of in my life so that my Sun Salutations become like a prayer in motion.