THE POWER OF YOUR BREATH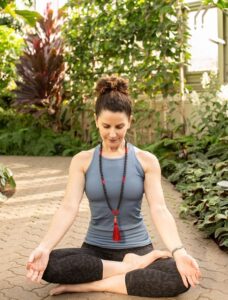 I will load each week's content below in the tabs. The most current week will show first in blue, but you'll be able to click the boxes in grey beside the blue tab to view previous content.
The Box Breath
From a seated or supine position, inhale for a count of 4, hold at the top for a count of 4, exhale for a count of 4, then hold for a final count of 4. Repeat 3-4 times.
Note: if a count of 4 is outside your comfort zone, try starting with a count of 2 or 3.
Why?
I recently listened to a podcast about the healing qualities of the breath, and this Box Breath was mentioned as something the Navy Seals do to release stress. Also, I believe that after holding your breath at the top of the inhalation, your exhalation becomes more complete. If you remember from week 1, many of us don't exhale completely and end up leaving behind residual air in our lungs. This does not allow for the full and optimal exchange of O2 and CO2.
Definitely check out my Favorite Find this week – a funny video that demonstrates how your lungs function as you breathe. Click on the image below to go to my web site, not only to be educated, but also entertained! =)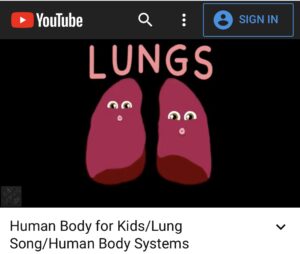 One inspiring tip:
Try the Box Breath from a standing position. First, inhale and lift your arms overhead for a count of 4. Then, hold your breath at the top of your inhalation with your arms lifted for a count of 4. As you exhale for a count of 4, fold forward into Uttanasana/forward fold. Stay in the forward fold as you hold your breath out (at the bottom of your exhalation) again for 4 counts. On the next 4-count inhale, you will begin again by lifting back up to a standing position with your arms overhead. Repeat this variation 3-4 times.
One inspiring song:
"Be Someone – Acoustic" by CamelPhat, Jake Bugg
One inspiring quote:
"This is a wonderful day. I've never seen this one before."
– Maya Angelou
One inspiring cue:
Nostril-Breathing

As you inhale and exhale through your nose, feel the coolness of your breath as it enters your nostrils and the warmth of the breath as it exits your nostrils. This is a cue that brings me right into the moment. Another easy way to experience this is to simply focus on feeling your breath as it both enters and exits through the nose. If you take my classes, you hear me say this on a regular basis.
Why?
Breathing through our nostrils helps to both warm and moisten the air as it travels into our lungs (yes, I know I said "feel the coolness on the inhale", but that is because it feels that way even though the air is actually warming). Another benefit of breathing through our nose, according to Dr. Reid Winick (Scientific American, September 2014), is that "our body has a gene called T2R38, that stimulates the nose's receptors when you breathe through the nose, which reacts with the chemicals that bacteria in the air use to communicate. It stimulates nitric oxide that kills bacteria, so you breath in a relatively less infectious air." In simple terms, breathing in through your nose helps clean the air. =)
When you understand the benefits of breathing through your nose (not only in yoga), you are more likely to practice the technique.

My second Favorite Find for the week is a TED talk presented by Dr. Melissa Varnich, author of the book BREATHE. To learn about the importance of a healthy breath, click on the image below to watch on my web site.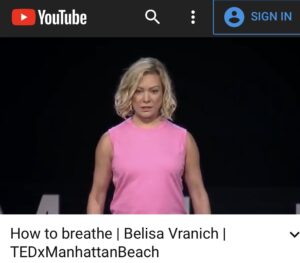 One inspiring tip:
To add to the cue above, feel your breath enter through your nose, slide down your throat, and reach the pit of your belly. I like to visualize a tube that runs from the back of my tongue to the pit of my belly. Using visuals like this can shift the quality of your breath. Remember, the goal is to let your low ribs expand laterally as you inhale and then exhale completely, allowing the contraction of the abdominal muscles to assist you in emptying out. If you want a refresher on the importance of lateral breathing, click here for last week's cue.
One inspiring song:
One inspiring quote:
"Acknowledging the good you have in your life is the foundation for all abundance."
– Eckhart Tolle

One inspiring cue:
Diaphragmatic Breathing
When you breathe, let your belly AND low ribs expand three-dimensionally (forward, side, and back) as you inhale. As you exhale, let everything recoil and consciously narrow your waist towards the end of your exhale.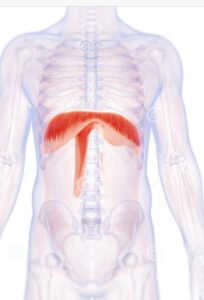 Note: As always, you want your breath to be comfortable so don't force anything – just work to find balance.
Why?
MRIs show that the back part of the diaphragm has the greatest range of motion – moving up and down up to 4 inches as it contracts and relaxes (see image below for picture of diaphragm muscle). That's a lot of movement! If we only let the belly expand forward, we miss out on the full movement (and full benefits) of diaphragmatic breathing. So, you can see why breathing into the backside of the body and creating lateral expansion has a plethora of benefits.
Make sure to exhale fully and completely when practicing diaphragmatic breathing. Clinical psychologist Dr. Belisa Vranich, who has spent over 10 years studying the breath, says to "remember that stale air stays in your lungs unless you consciously exhale it. Just keep training yourself to blow out every last bit."
Be sure to check out my Favorite Find for this week, an article about diaphragmatic breathing and all of its benefits, as well as instructions for other deep-breathing techniques. Click on the image below to read the full article on my web site.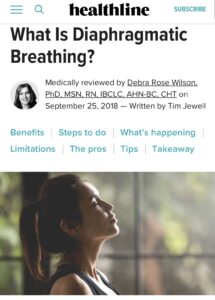 One inspiring tip:
Lie on your back to practice full belly breathing. Dr. Ray Long says that when we are lying down, we are able to create more movement of the diaphragm. This means we can create more strength in the muscle and less stress in the body. It also allows you to feel the full range of motion in the body better. If you missed last week's "Rolling Breath" technique, which is practiced in a supine position (lying down), click here.
Note: You don't have to be lying down to do your breathwork, it is still beneficial (just not quite as much) while sitting.
I always try to incorporate deep breathing into the first 5 minutes of my yoga practice, as well as the last 10-15 minutes while in deep-opening poses. It is believed that as little as 10-15 minutes a day of any kind of deep breathing can have a monumental impact on our bodies and minds.
One inspiring song:
"Breathe Deep" by MC Yogi, East Forest
One inspiring quote:
"When you own your breath, nobody can steal your peace."
– Unknown
One inspiring cue:
The "Rolling Breath"
Lie down on your back and place your left hand on your belly and your right hand on your heart. As you inhale, breathe in so that only your belly (left hand) moves and your right hand (chest) stays still. Do this 8-10 times to prepare for the full version of this breathing technique.
Then, begin to inhale and let your belly move and fill first followed by a lift in your chest. As you exhale, allow your right hand (chest) to fall first and then your left hand (belly). Inhale: Belly and chest move and lift in that order. Exhale: Chest and belly fall in that order…hence the name "Rolling Breath". Remember to keep your neck and shoulders soft as you practice this for 3-5 minutes.
Why?
Many of us don't use the full capacity of our lungs. By breathing fully into the belly, you are more likely to use the lower part of your lungs and your primary breathing muscle, the diaphragm. Breathing well literally feeds your body with oxygen. Without quality breathing, you run the risk of many ailments, includng fatigue as well as increased levels of the stress hormone, cortisol.
When you lie down and practice breathing you are in a position of "good posture" (kind of hard to slump forward when you're lying down). This allows your diaphragm to move through its full range of motion. A 2006 study from the American Academy of Physical Medicine and Rehabilitation showed that poor posture (slumping) produced the worst lung capacity and expiratory flow compared to normal sitting and/or a posture designed to mimic proper standing spinal alignment. Rene Cailliet, a former director of the Department of Physical Medicine and Rehabilitation at the University of Southern California, asserts that "improper posture can cause a reduction in lung capacity of up to 30 percent." So, remember to sit/stand up tall to maximize the power of your breath!
Be sure to check out my Favorite Find for this week, which is a 3-minute video on the importance and many benefits of the breath. Click on the image below to watch the video on my web site.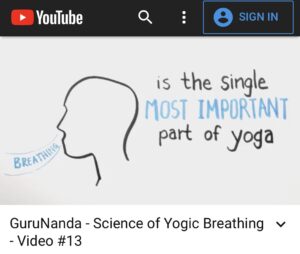 One inspiring tip:
I have two for you this week!
1) As you get comfortable with the belly lifting and expanding in the "Rolling Breath" technique, begin to focus on letting your belly and ribs expand laterally as well.
2) Practice the "Rolling Breath" technique while in a Downward Facing Dog. It's believed that practicing in an inverted position can help to strengthen your diaphragm. Remember, your diaphragm needs to be worked like any muscle so it can remain strong and aid in healthy, optimal breathing.
One inspiring song:
"When Doves Cry" by The Be Good Tanyas
One inspiring quote:
"Love life, engage in it, give it all you've got. Love it with passion, because life truly does give back, many times over, what you put into it."
– Maya Angelou