URDHVA MUKHA SHVANASANA (UPWARD-FACING DOG)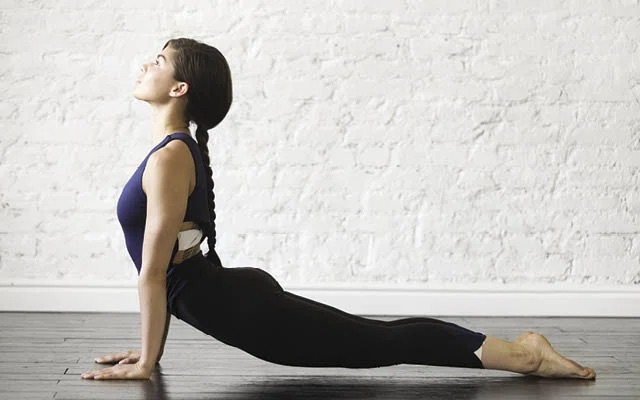 I will load each week's content below in the tabs. The most current week will show first in blue, but you'll be able to click the boxes in grey beside the blue tab to view previous content.
One inspiring cue:
While in your Upward-Facing Dog, dial your hands open as you isometrically drag them towards the back of your mat. 
Why?
This action helps to open the chest and engage your posterior chain muscles. I love this cue for Cobra pose too!! Definitely experiment with this one!
One inspiring tip:
If you feel pressure in your low back while in Updog, try hugging your inner ankles towards one another. You can also try placing a block between your ankles and squeeze it gently to find more space in the low back.
One inspiring song:
"Watching the Wheels" by Chris Cornell
One inspiring quote:
"Instead of bracing yourself for the perils of the unknown, embrace the joy that is here in the present moment."
– Michelle Cruz Rosado
Nutrition nugget:
COME TO MY HEALTHY BONES WORKSHOP THIS SUNDAY, JUNE 26TH FROM 1-2:30PM AT REACH YOGA IN GLENCOE!! Here's the description of the Workshop and a link to sign up!
YOU ARE ONLY AS OLD AS YOUR BONES!
BONE HEALTH= OVERALL HEALTH
Keep your bones strong through nutrition and yoga.
Pam Udell will guide you through the latest research in nutrition, yoga and exercise.
This workshop is for ANYONE looking to optimize bone health through nutrition and yoga.
Instructors looking to help their students who have osteoporosis.
What you will learn:
How to find out if you are actually absorbing the nutrients you are eating.
The all important bone healthy nutrients.
Pam's top 5 bone healthy foods you can easily incorporate in your diet.
How to practice yoga safely if you have osteoporosis (this is similar for anyone who has herniated/bulging discs)
The best exercises and yoga poses for bone strength.
What you will take with you:
A list of the 20 of the most nutrient dense foods
Pam's bone magic seed mix
2 simple bone healthy recipes
Confidence you are on the right path to better bone health.
What class will look like:
45 minutes of nutrition and 45 minutes of yoga and exercise.
Facts!
Osteoporosis facts from Dr. James Webb, M.D.
Osteoporosis is commonly called a "silent disease." If you have osteoporosis, you cannot actually feel your bones weakening.
Approximately 50% of all women and 25% of all men over the age of fifty will suffer bone loss.
There are many risk factors for osteoporosis – some you can control and some you can't.
Taking more calcium than you need does not provide any extra benefits.
You can help children now reduce their risk of osteoporosis as adults.
Losing height is a potential sign of osteoporosis.
Peak bone density happens around the age of thirty for most people.
Certain autoimmune disorders, digestive/gastrointestinal disorders increase the likelihood of osteoporosis.
Despite previous health history and genetic causes, osteoporosis is largely preventable.
Spinal damage due to osteoporosis is also quite common and extremely painful.
In older adults, the mortality rate in the first year after a hip fracture is as high as 24%.
Many people who experience back pain are actually suffering from a fracture without knowing it.
Sign up here! I can't wait to see you there!!
One inspiring cue:
Lift through the lower part of your sternum as you come into your Upward-Facing Dog. 
I like to think of an elevator (lower sternum/xiphoid process) going up. Try visualizing your xiphoid process and lifting from there.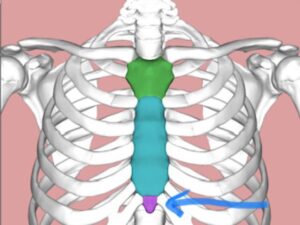 Why?
There's something (at least for me) that the extra lift in the lower sternum gives me in the pose that creates a little more core stability and lower back length. Give it a try!!
One inspiring tip:
When moving from Updog to Downdog, initiate the movement from the xiphoid/low sternum. Once again, this may offer you a little more core stability. A rheumatologist I know who practices yoga gave me this cue to help take pressure out of my back during this transition. It makes a huge difference for me!
One inspiring song:
"Still Trying" by Nathaniel Rateliff
One inspiring quote:
"The groundwork for all happiness is good health."
– Leigh Hunt
Nutrition nugget:
Have you heard of Natto? I hadn't until I came across it in my Healthy Bones Nutrition Plan and Cookbook. It seems to be a hero food when it comes to bone health. Here's what Dr. Laura Kelly has to say, "Our bodies make very little K2, so unless you eat the Japanese fermented bean called Natto, it can be challenging to get as much of this essential vitamin as we need from food. Natto is the major source, with Gouda cheese, pastured poultry dark meat, pastured eggs, natural milk, and some other foods and lesser quantities being a distant second."
Please note that she said PASTURED MEAT AND EGGS. You want to look for pasture raised foods when you are at the grocery store because they have a different nutrient profile vs. non-pasture raised foods.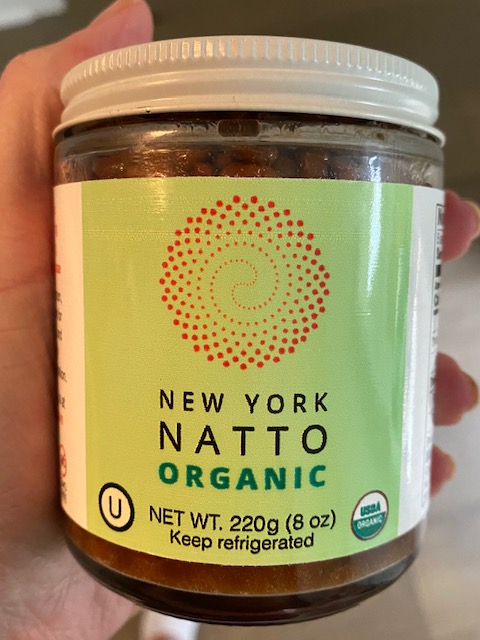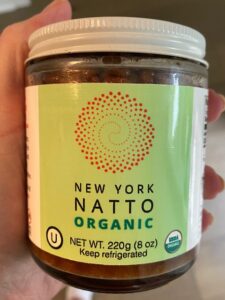 I looked at Whole Foods and didn't see it sold, so I found this brand online. WARNING: Natto does not taste great. It's a little gooey and is described as smelling like dirty socks. Eeeks! Here's a tip – I have been adding a TBSP to my smoothies and don't taste it at all.
SAVE THE DATE! SUNDAY, JUNE 26TH FROM 1-2:30PM: BONE HEALTH = OVERALL HEALTH WORKSHOP AT REACH YOGA IN GLENCOE!! In the first 45 minutes of class, we will cover nutrition for bone health. The second part of class will be about optimizing your yoga practice for bone health. You can sign up and read all of the details here.
Practice your Updogs, eat more K2, and enjoy the natural beauty of Spring!