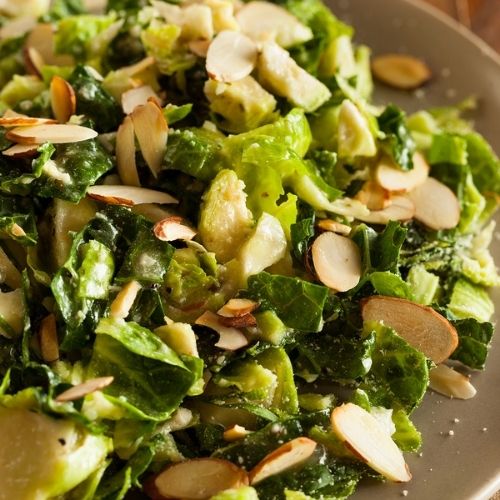 Brussels Sprout Salad with Manchego Cheese
I fell in love with the Brussel sprout salad from Hub 51 in Chicago (you can google for their recipe), but found this healthier version that is still VERY good.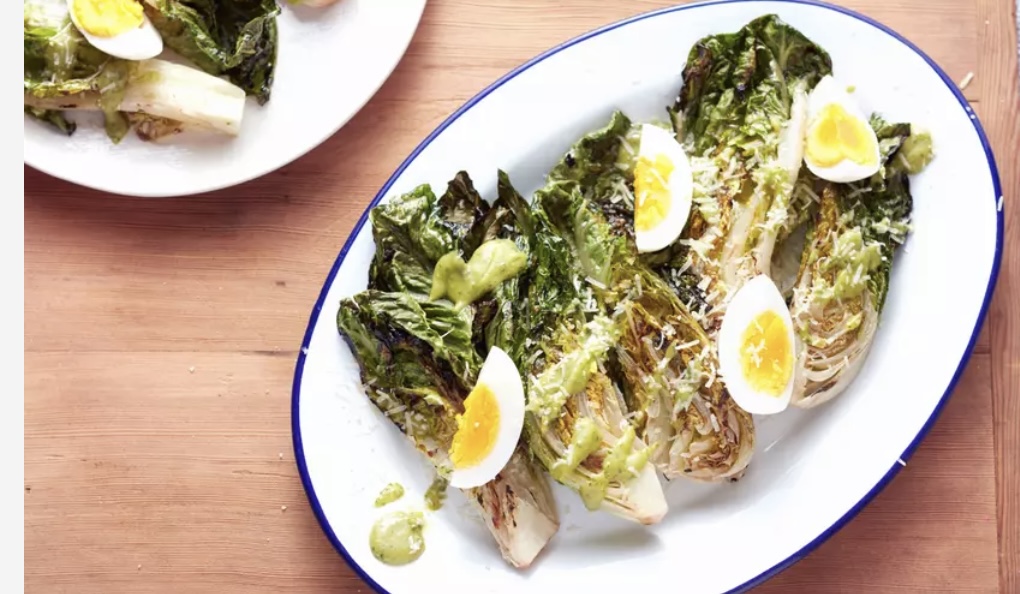 Grilled Romaine Salad With Avocado-Lime Dressing
Ingredients

3/4 tahini
1/2 cup sunflower seeds
Juice of 1/2 lemon
3 Tbsp. olive oil
1/4 tsp. sea salt (or to taste)
4 cloves garlic
7 sprigs fresh parsley
1 bunch raw emerald or lacinato kale, shredded or cut small
1/2 cup raw shredded maitake mushrooms (hen of the woods)

Directions
Combine all ingredients except kale and mushrooms in a blender and blend until smooth.

If the mixture is too thick, add a little water until it is the texture of a thick soup.

Combine kale and mushrooms. Pour the soupy mixture over the kale and mushrooms and mix.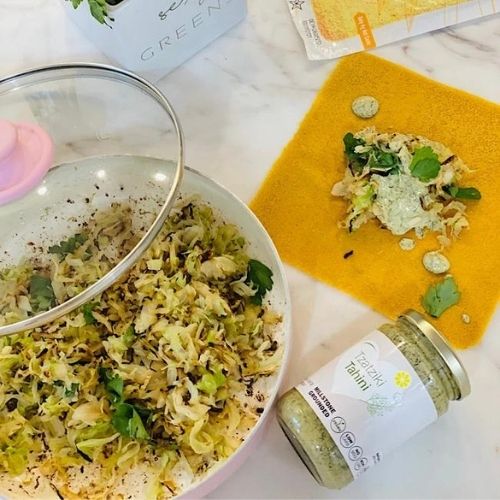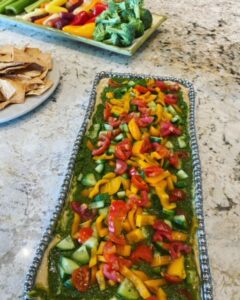 Hummus & Veggie Appetizer
Ingredients

1/3 cup pine nuts
2 cups hummus
1 cup cilantro pesto
1 cup mini sweet peppers, chopped
1 cup english cucumbers, chopped
3/4 cup grape tomatoes, chopped
1/2 cup feta cheese
1/4 cup parmasean cheese
Fresh cilantro for garnish
Pita for dipping

Directions

Prepare cilantro pesto
In a medium skillet over medium heat, toast the pine nuts until golden, tossing occasionally, about 3 minutes
On an 11 inch serving platter, spread the hummus
Toss with pesto and smooth out
Sprinkle on the remaining vegetable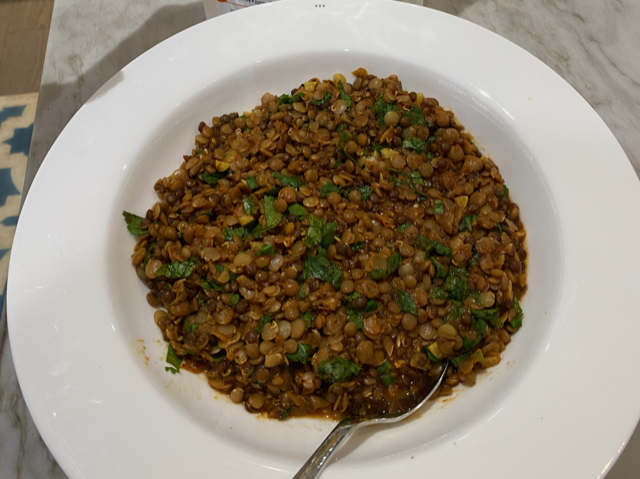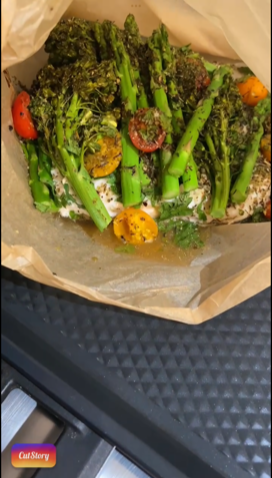 Fabulous Fish in Parchment Paper
INGREDIENTS
4 to 6 ounces fish of choice (salmon, halibut, sole)
1 to 2 cups chopped vegetables of choice (zucchini, summer squash, asparagus, Broccolini)
1 tablespoon aromatic of choice (garlic, onion, shallot, chives)
1 tablespoon minced fresh or dried herb of choice (parsley, thyme, sage, herbes de Provence, cilantro)
1 tablespoon fat of choice (olive oil, melted coconut oil, melted butter)
DIRECTIONS
Preheat the oven to 350°F.
On a large piece of parchment paper, layer the fish, chopped vegetables, aromatic, and herbs. Drizzle with the fat.
Fold or crimp the parchment paper into a sealed pocket. Bake for 20 minutes, or until the fish is cooked through.
Serve in the paper for extra drama!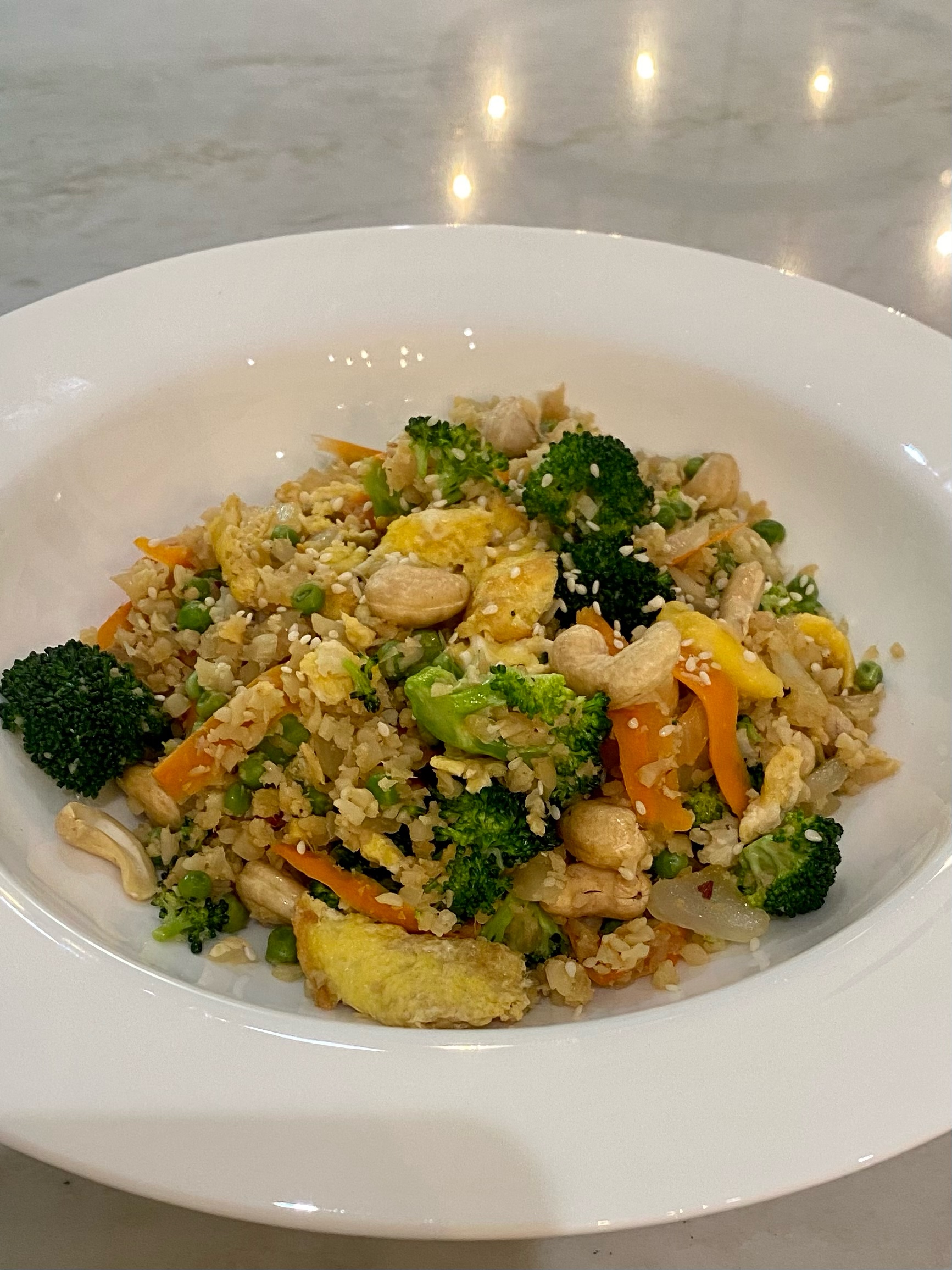 10 Minute Healthy Cauliflower Rice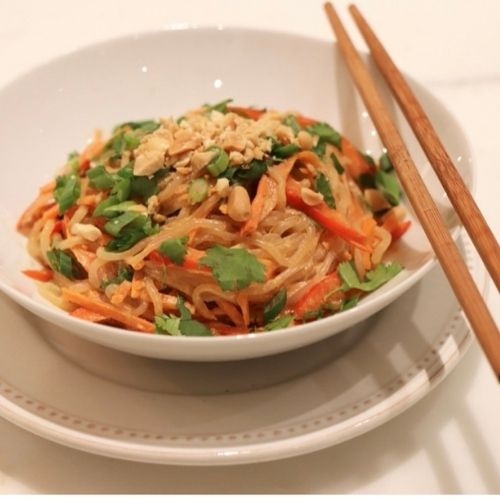 Asian-Inspired Cold Peanut Noodles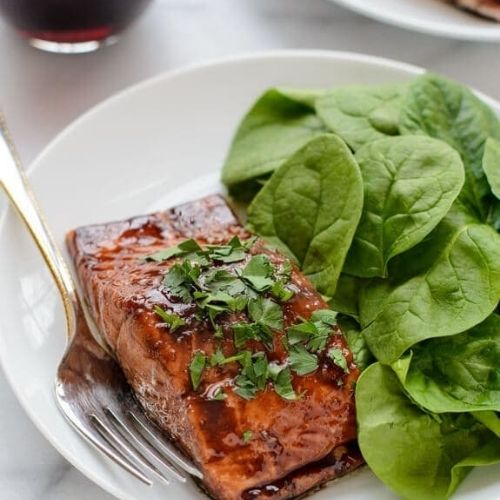 Easy and delicious. Tip: soak fish in milk (organic of course) for 20-30 min to get rid of any "fishy" taste in the fish. Pat fish dry and season. It works!!!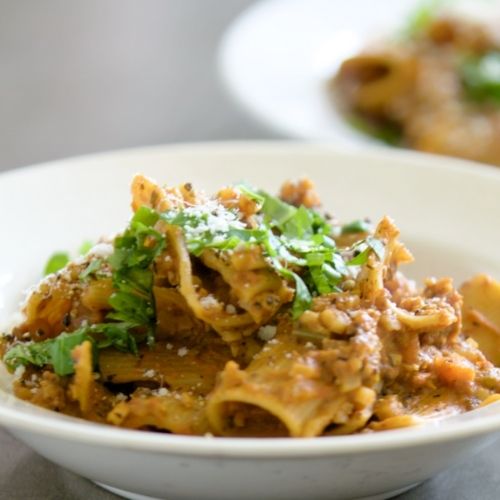 Meat-Free Cauliflower Bolognese
Okay, this is a hubby favorite!!!! This not only looks like meat based bolognese, but taste incredible. I'll add it to any noodle (miracle noodles work, too), and then keep it in the fridge and eat it plain.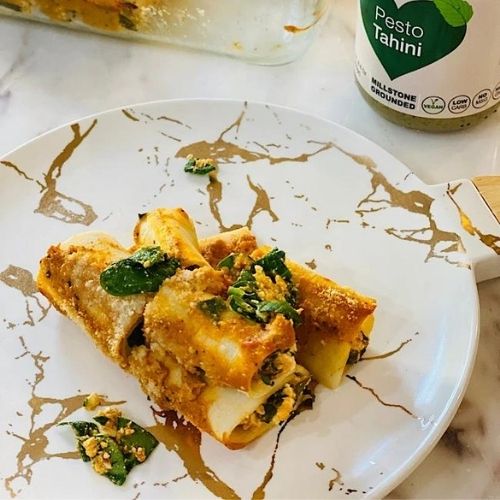 One of my favorites to keep in the fridge and eat cold. The lasagna palmini noodles are my favorite…I'd rather use miracle noodles for other dishes. Tip: bake this until it's really well done so the noodles get a little softer.
I've experimented with different cheeses and even dairy free. My favorite is to do one layer of goat cheese and one layer of ricotta.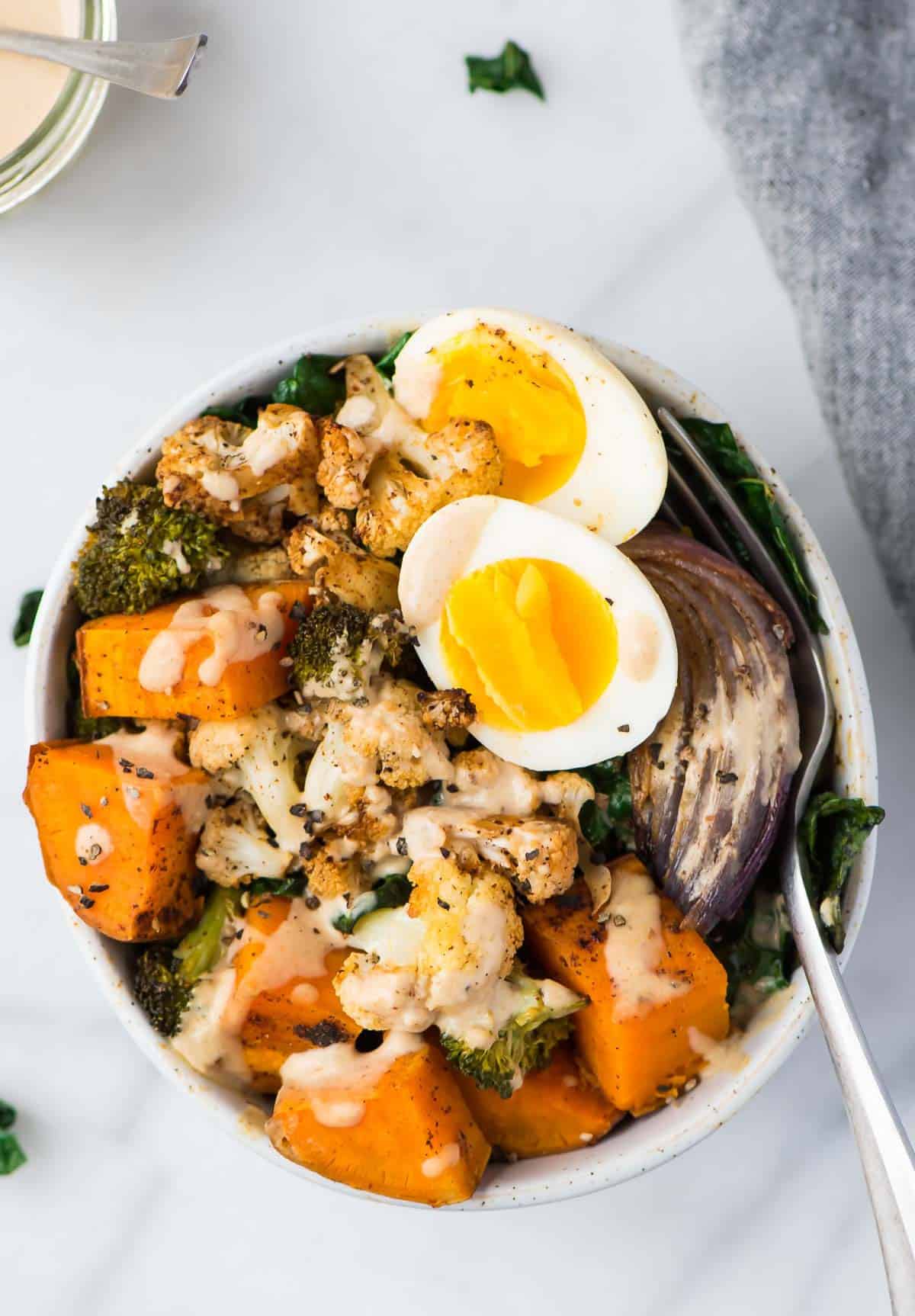 Whole30 Vegetarian Power Bowls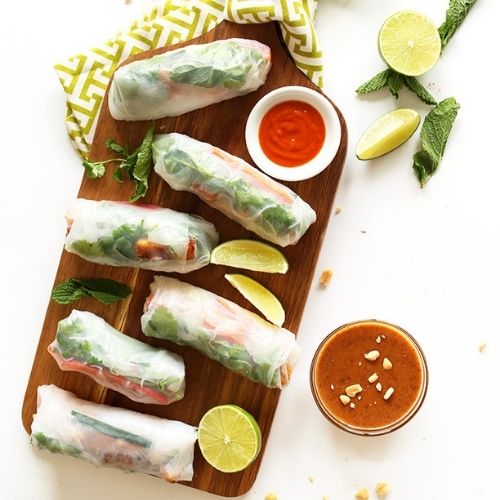 Vietnamese Spring Rolls with Crispy Tofu
One of my college besties sent me this delish and easy recipe. This dish looks like you picked up from a restaurant. 🙂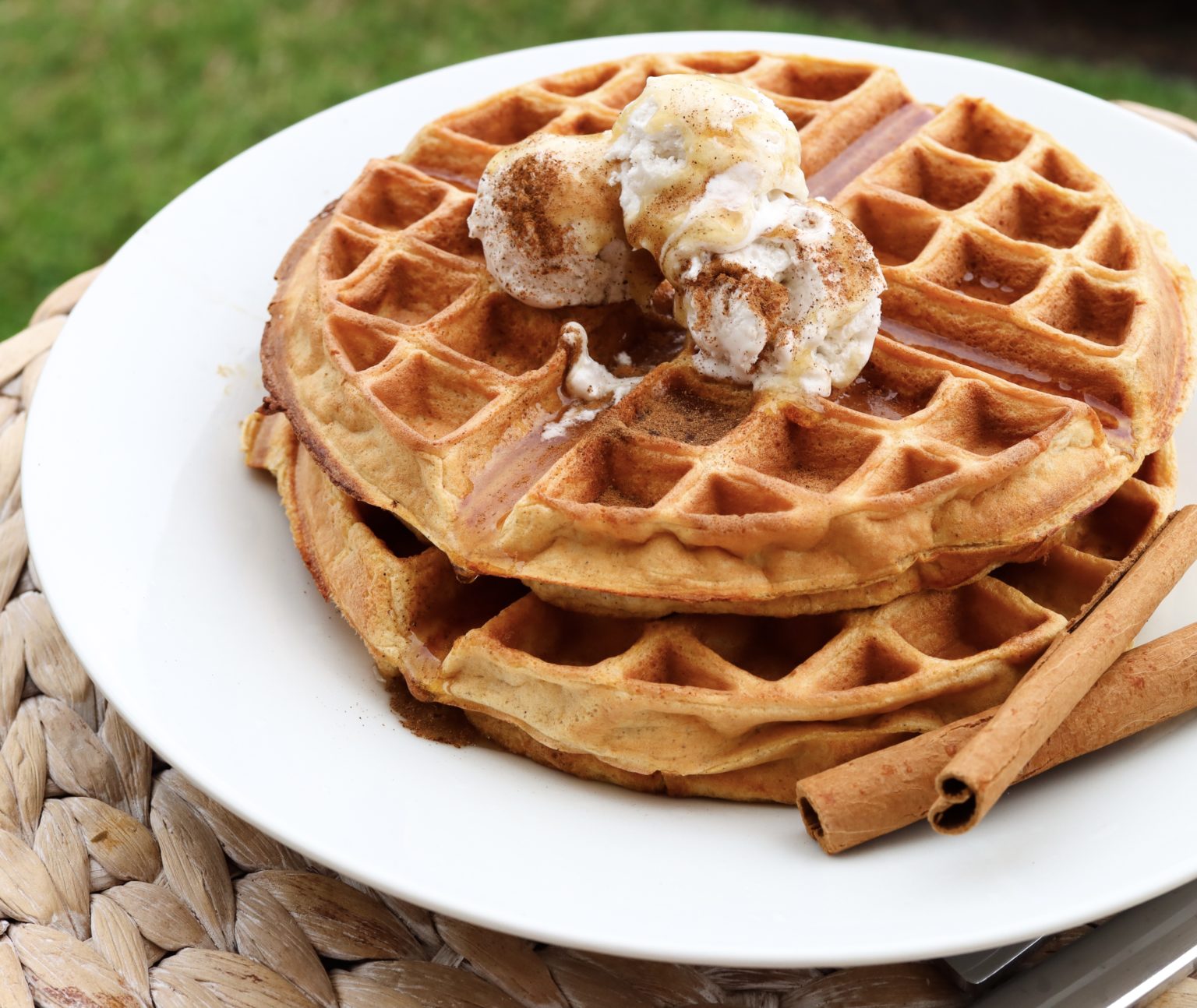 F-Factor's Famous 20/20 Belgian Waffles
These are a go to breakfast for me when I'm feeling like I want a delicious waffle without all the carbs. I'll either top my waffle with kite hill cream cheese, onion and tomato for a "bagel" or a high fiber syrup and berries for the Sunday brunch feel.
I have found that F Factor protein powder is the only one that works for this recipe. I have used all of her flavors for the waffles. My favorite is the unflavored and then the chocolate when I want to add strawberries. Yum!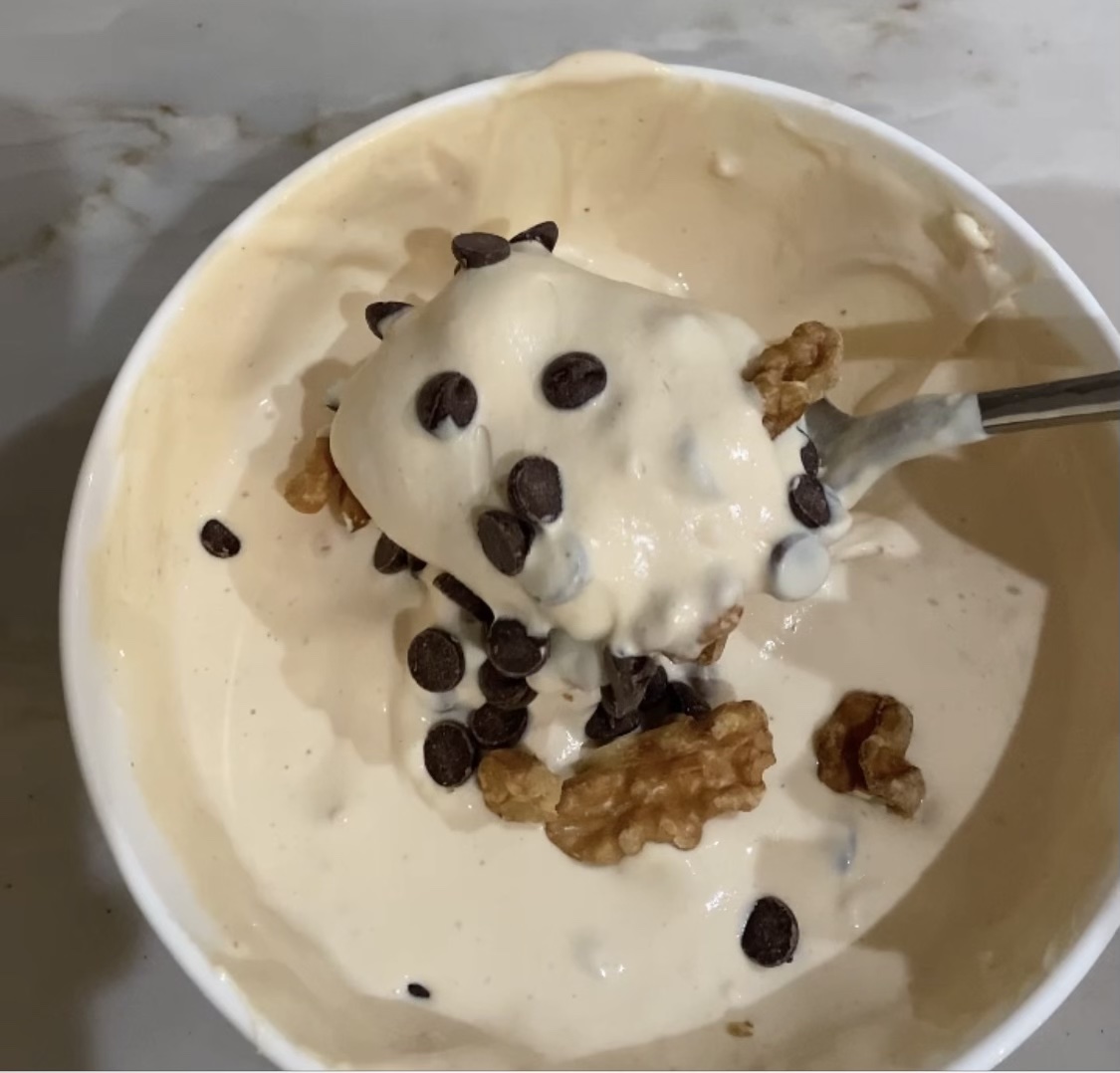 Greek Yogurt Goddess Bowl
optional: add berries or nuts…and even chocolate chips if having for dessert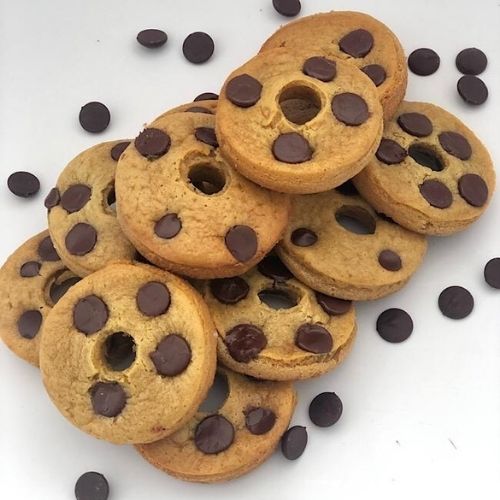 High Fiber Vegan Chocolate Bagels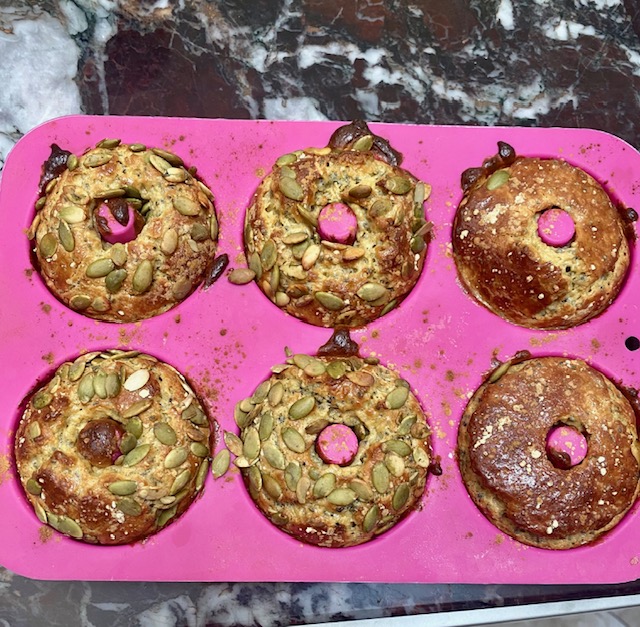 Easy Wheat-Free and Nutrient Dense Bagels
Makes 6 mini bagels or 4 regular size
1/2 C Tahini. I used Whole Foods organic tahini for this recipe. Tahini Goddess tahini is another good choice
1 tsp Baking powder
3 eggs
1 -2 T honey (I used 1 T of manuka honey)
Top with sea salt, garlic, and onion powder or any spices and herbs of your choice
Mix all together and put in bagel mold
Bake at 375 for about 10-15 min. I let them cool before removing them from bagel pan
Mini bagels
Calories: 79
Protein: 9.5
Fiber: 1
Carbs: 5.8
For more nutrient density and bone health nutrients add:
Regular sized bagels
Calories: 107
Protein: 11
Fiber: 4
Carbs: 10.5
Plus more bone healthy nutrients!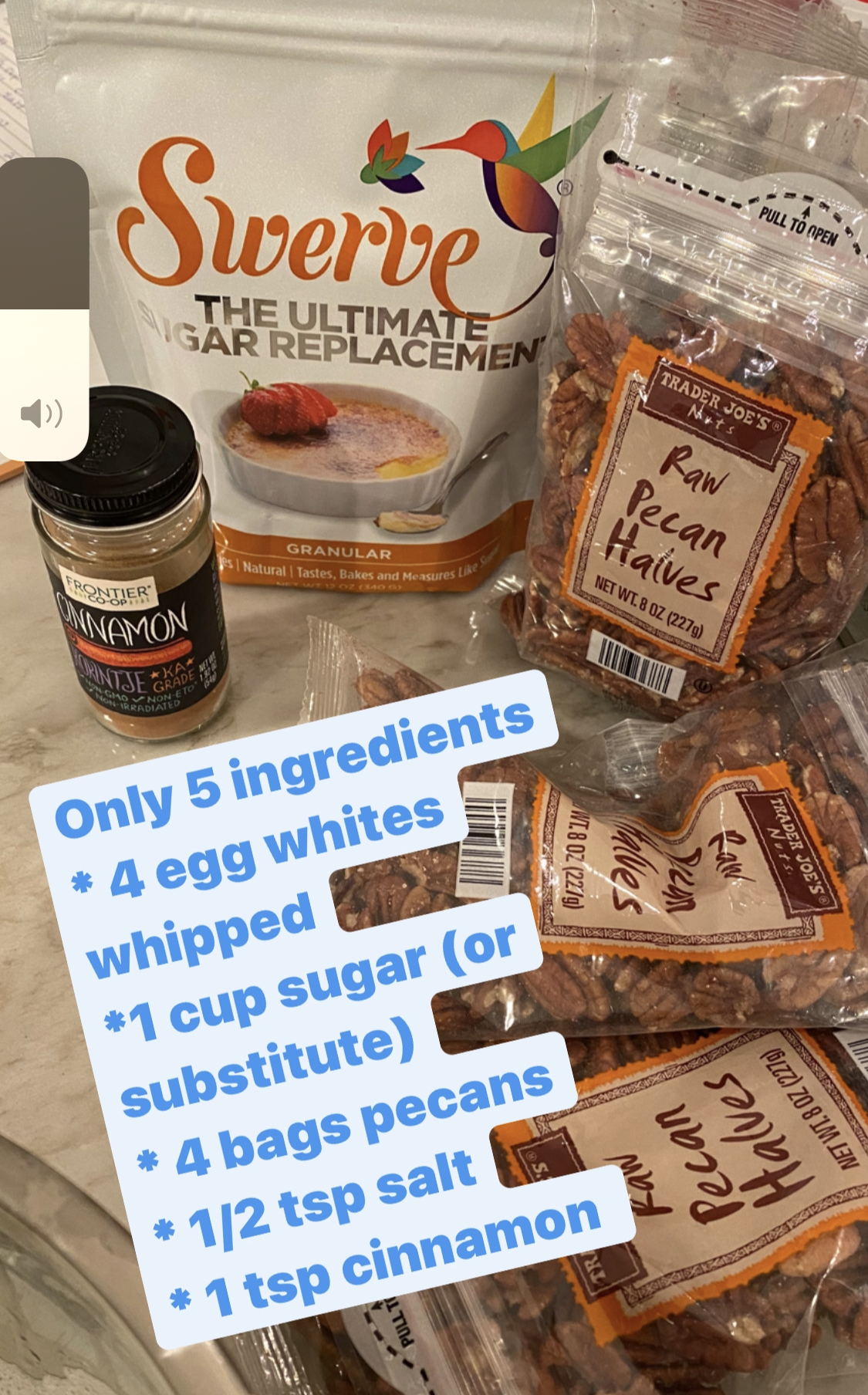 This is a thanksgiving staple in my house. It's actually my aunt's recipe that was handed down to me.
THESE ARE SO TASTY!!! I put them in little bowls around the table. Tip: use monk fruit or stevia instead of sugar.
I absolutely love these!!! I've made them for both healthy and not so healthy people and most want me to share the recipe.
Tip: use refined almond flour and unrefined coconut oil. Play around with adding a little less or more for the right consistency and taste.
I always add a little more vanilla…reminds me of real cookie dough! Each time they come out a little different, but I promise you, these are good!! I keep them in the fridge or freezer.