I will load each week's content below in the tabs. The most current week will show first in blue, but you'll be able to click the boxes in grey beside the blue tab to view previous content.
Good Morning!
As you're gearing up for the holidays, I hope you've been able to find some relaxation and connection to your breath.
I've got a really good 75-minute shoulder "love" class for you today! I know it's not quite Restorative, but as one of my students who took the class said, "Best class! I loved it!!"
You'll move and flow with a focus on stretching the muscles around the whole shoulder joint…which also means you'll get a lovely neck release as a bonus! Since we tend to hold tons of stress and tension in the neck, this will be perfect for those of you experiencing any holiday-related chaos!!
Click here to go to my website for the class video. Enjoy!!
Remember, you just pay whatever you want to take any of my classes! Once you pick your class and go to check out, you have the option to to choose an amount. So easy!!
If you're in the mood for something more relaxing, you can take the Restorative class that I shared a couple of weeks ago. It's a 30-minute practice and perfect to do right before you go to bed. All of my classes are listed by class length in the menu bar.
Until next week…
One inspiring pose:
Twist with a bolster. This truly is one of my favorite poses and I teach it every time I lead a Restorative practice! Start by bringing one hip as close to the bolster as you can with your knees bent. Your upper body can then just melt over the bolster as shown below. You can also place a blanket, towel, or pillow under your head for extra comfort.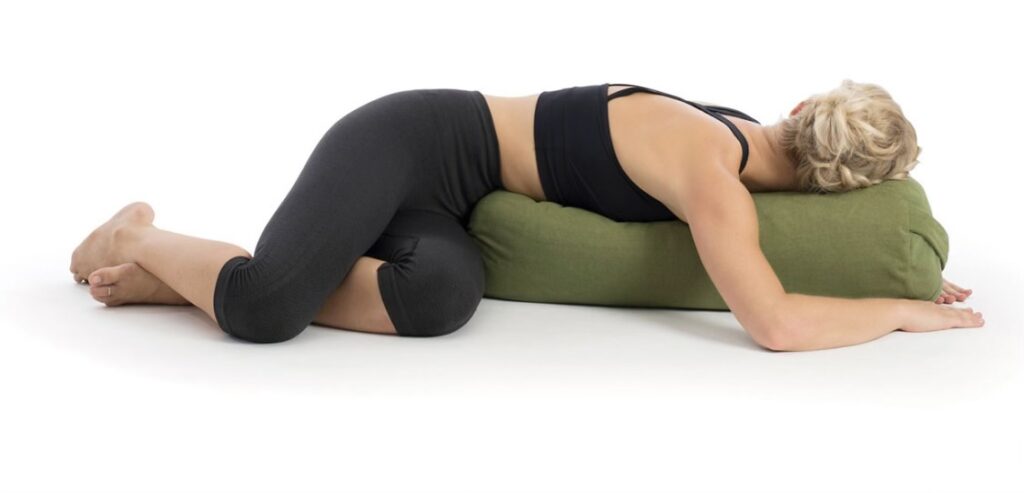 Why?
Oftentimes when we twist, we are using muscular effort even when we're on our backs. The tendency is to try to "push" ourselves a little deeper into the pose. The bolster allows you to find a gentle, supported twist without any exertion.
This passive twist is a great way to get the benefits of a twist while completely relaxing and activating the parasympathetic nervous system (rest and digest). There are pros and cons to going to your edge in any pose. This week, try to simply soften and relax into a restorative twist, allowing healing and calm to flood your body.
One inspiring tip:
If the bolster feels too low and there is discomfort preventing you from fully surrendering, try placing a block under the bolster, at any height, to give you more lift (see below). Remember, you want to find the right support for your body to allow the Restorative pose to truly do its work!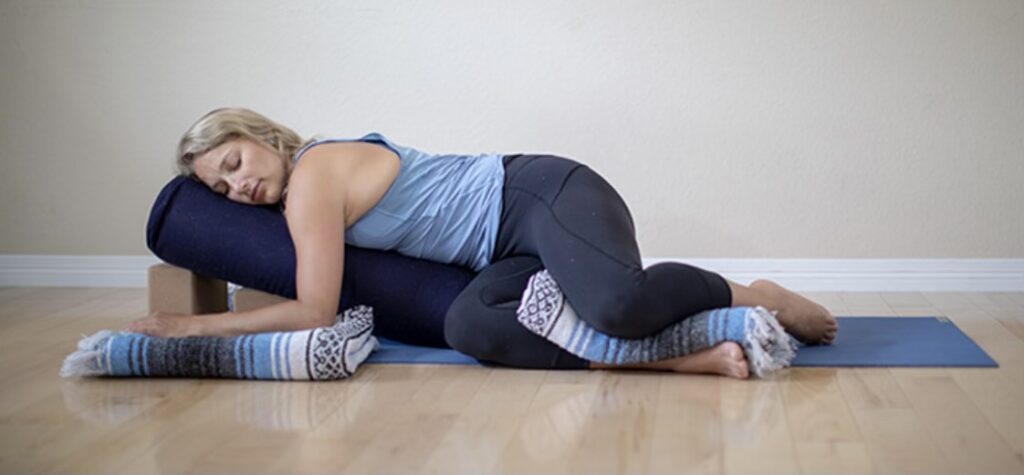 One inspiring song:
"ohmdrone" by Jesse Blake (perfect song for relaxation and/or Savasana)
One inspiring quote:
"Happiness is the art of relaxation."
– Maxwell Maltz
Happy Wednesday!
Have you had a chance to practice the Restorative class from my Digital Yoga Studio? Now is a great time to check it out! You'll get to spend 30 minutes breathing, opening, and relaxing. You'll want to grab a bolster or 2-3 pillows so you can fully let go in the poses. Click here to go to my website and search for "Restorative" under 30-minute videos. Enjoy!!
If you're interested in learning more about the benefits of Restorative poses, you may want to read this article from Yoga Medicine. Click here or on the image below to go to my website for the link to this interesting article on how a Restorative practice can calm and heal the body.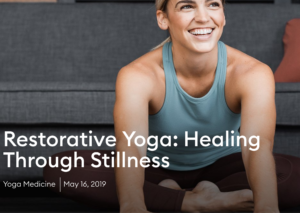 You probably know by now that I am getting my certification as a Functional Nutrition Clinician. Each month, we explore a different system in the body. This month, we are diving into the urinary tract and which vitamins and minerals (hopefully from food) can help support this system.
Each of our bodies is different and require varying nutrients and health protocols. If you're someone who suffers from urinary incontinence (many reasons for this), you may want to consider staying away from foods that are natural diuretics. However, if you are someone who easily retains water, you may want to consider eating more foods that have a diuretic effect. Here's a list of some foods that are natural diuretics:
Brussel sprouts
Celery
Cranberry juice
Cucumbers (which stimulate the kidneys and aid in the removal of uric acid)
Dandelion and dandelion leaf (aid in the detoxification of the urinary tract)
Green tea
Fennel
Lettuce
Nettle
Oats
Parsley
Melon
Sending you healthy vibes and wishes for a relaxing month ahead!
One inspiring pose:
Lie down in a gentle backbend over a bolster as pictured both above and below. Find an easy, steady breath as you allow the body to surrender and the mind to still as much as possible.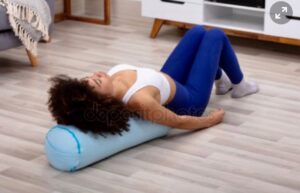 This is one of my favorite restorative poses. It's easy to set up and the openness/extension in the front body provides the perfect position in which you can just relax and let go.
Why?
Judith Lasater, PhD, who teaches restorative workshops all over the world, explains the benefits of restorative postures. "Common to all stress reduction techniques is putting the body in a comfortable position, with gentle attention directed toward the breath…Scientists have researched the effects of relaxation and report measurable benefits, including reduction in muscle tension and improved circulation."
One inspiring tip:
Once you are lying on the bolster, your legs can be straight or your knees can be bent with your feet flat on the floor…whatever feels better for your back. And, you can experiment with the arms too – they can fall out to the sides straight or with the elbows bent, or you can even bring them overhead. It's all about what feels best and most relaxing for your body!
One inspiring song:
One inspiring quote:
"my to do list today: Be Present."