Crow Pose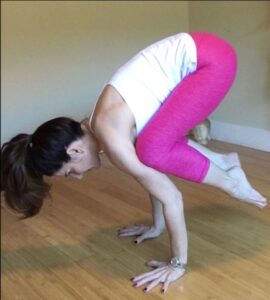 Who wants to fly with me this month? There's something about balancing in Crow pose that makes me feel strong, graceful, and balanced. Some days are easier than others to find that light, buoyant feeling, but the more you try and continue to learn, the more consistent your practice can be. There's always something new to learn in every pose…it's one of the things that keeps me coming back to the yoga practice! So, if you can already float into Crow easily or if you've never been able to do it, let's explore the pose in a little more depth.
This month, I'll also be sharing 2 videos to prep your body for floating into Crow pose – one 45-minute practice and one 30-minute class. Both of these are great to do on their own when you're looking for a shorter practice or to add on to another workout. If you haven't visited my Digital Class Library recently, you will notice that the videos are now organized by class length…and there are over 28 classes waiting for you! As I've mentioned, I am running a special right now where you can sign up to get unlimited access to these videos for 3 months for only $89. Click here to check out the "new" Digital Class Library on my website and/or sign up for this great offer!!
One inspiring cue:
As you shift into Crow pose, aim your sit bones down and your back ribs up, just as your feet are about to float off the ground.
Why?
The action of moving your back ribs away from your waist as you are shifting into Crow helps to create more space and comfort in the low back. When you combine this action with aiming your sit bones down, you'll activate the rectus abdominis. This will help you find the rounding action we are looking for in Crow and give you more core strength in the pose.
One inspiring tip:
To prep for the action above in Crow, practice this Downdog variation with the same cue. Start by placing a block under each hand as you come into Downward Facing Dog. Then, as you shift forward, draw your right knee high up on the right tricep as you practice lengthening your back ribs away from your waist and sit bones towards the ground. Return to Downdog and repeat on the left side. Practice this a few times on each side to prep and build strength for Crow.
One inspiring song:
One inspiring quote:
"What sunshine is to flowers, smiles are to humanity. These are but trifles, to be sure; but scattered along life's pathway, the good they do is inconceivable."
– Joseph Addison